Highland Park High School
Home Of The Scotties - Class Of 1962
In Memory
Robert L. Ramey VIEW PROFILE
TOPEKA, KASNSAS - Robert L. "Bob" Ramey, 77, of Topeka, Kansas passed away on Wednesday, April 29, 2020. He was born on March 26, 1943 in Fredonia, Kansas, the son of Robert R. and Jessie Lucille (Chapman) Ramey. Robert resided most of his life in Topeka, Kansas before retiring in 2009. He was employed by Del Monte Foods for 39 years.

He married his high school sweetheart, Connie Stover on August 3, 1962; she preceded him in death on June 21, 2009. He attended Highland Park High School and graduated in 1962 where he was actively involved in football and basketball.

In his spare time, he enjoyed golfing, turkey and pheasant hunting, fishing, working out, bowling, slow pitch softball and going to the race track. He loved all of his kids and grandkids so much and would do anything for them. He loved watching them all participate in all of their sporting events growing up. He played a large role in teaching all of his grandsons the game of golf. He was also an avid sports fan; KU, Chiefs and Royals.

He was a member of the Oakland Church of the Nazarene.

He is survived by his children; son, Brian Ramey (Tracy), Osage City; daughter, Tracy Christenson, Topeka; 15 grandchildren; 15 great grandchildren; sister, Carolyn O'Brien and his fiancée, Karen Carson, Topeka.

He was preceded in death by his maternal grandparents, Ona and William Chapman and paternal grandparents, Mamie and Alec Ramey; parents and wife; his daughter, Pam Ramey and grandson, Colton Christenson.

The family will greet friends during a visitation on Tuesday, May 5, 2020 5:00 – 7:00 p.m. at Penwell-Gabel, 1321 SW 10th Ave, Topeka, KS 66604.

A funeral service will be at 11:00 a.m. Wednesday, May 6, 2020 at the funeral home. We do ask that you please be mindful of the 6- foot social distancing guidelines while coming to pay respects to the family.

Memorial contributions may be made to American Heart Association 5375 SW. 7th St Topeka, KS 66606 or to American Diabetes Association PO Box 13067 Alexandria, VA 22312.

After the services, you can watch the video here online. Please click the "view memorial video".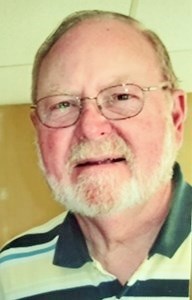 https://www.penwellgabeltopeka.com/Obituary/184085/Robert-Ramey/Topeka-KS
Click here to see Robert L.'s last Profile entry.